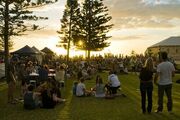 The well known summer markets are back! (@SanditonMarkets )
The Sanditon Flea and Farmers Markets have been around since the begining of Sanditon. Now they have upgraded to the technological age. Currently being run by Miss Kirra-Maree, The markets have also taken a turn for the better.
Open every weekend 6 am until 9pm, with fireworks every Sunday, and a live performance from one of the many entertainment groups within Sanditon. 
The markets are a great way to get to meet people, almost everyone ventures down to see them at least once a weekend. A great atmostsphere, right on the beach, and a beautiful view of the sunset, makets this markets one of the best in the world (Unbiasedly of course!)
Shops at the Markets
Edit
Below is a list of shops at the markets that have embraced this new age. 
Volunteers at the Markets
Edit
Below is a list of the Volunteers that spend tireless hours helping out at the markets. Everyone should thank them for their hard work, because without it, these markets wouldn't be happening!
Miss Kirra-Maree recently took over the markets from Mary-Lu, who fell ill, and decided not to contiune with her duties. The title of Market co-ordinater was then passed down to Kirra-Maree, who embraced this role, and is happy to continue this legacy.